Medicaid Reform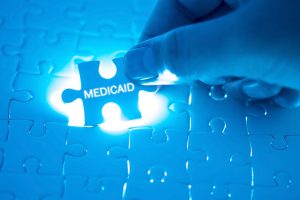 Medicaid is often a necessary component for assembling the "peaces" of the puzzle for the family.  Costs associated with treating behavioral, mental, emotional and medical conditions associated with autism can leave a family financially insolvent.
Medicaid is a program that is funded both at the federal and state level, but if a family needs to relocate for any reason to another state, they may be at risk of losing their Medicaid coverage due to wait lists.
This has to stop.
Families should no longer be at risk for losing services just because they want, or need, to move to improve their family life.
Medicaid portability must be addressed at the federal level.
Medicaid has also traditionally neglected the physical and mental health comorbidities of the ASD population, as well as emergency healthcare and healthcare across the lifespan.
President Donald Trump signed the Autism Cares Reauthorization Act into law in September of 2019. Unlocking Autism worked with the Autism Policy Reform Coalition, Congressman Garret Graves of Baton Rouge, LA, and Congressman Mike Doyle of Pittsburgh, PA. Congressman Doyle served as the lead bill author and has served as the co-chair for the Congressional Autism Caucus for two decades. Congressman Graves worked with his constituents and community members to develop an amendment to the legislation. Congressman Doyle championed that amendment in mark-up and with everyone working together this new policy shift was born!
When party politics are set aside, our community benefits.
Working in unity can help meaningful policy achievements shine.
The amendment that Congressman Graves proposed to Congressman Doyle included the following requirement – a new report to be submitted by the United States Secretary of Health & Human Services entitled:
"THE HEALTH & WELL-BEING OF INDIVIDUALS WITH ASD ACROSS THEIR LIFESPAN"
Published in the fall of 2021, the report requires the following additional recommendations:
Improved health outcomes for individuals with ASD across the lifespan
Screening and diagnosis of both children and adults
Behavioral and other therapeutic approaches
Primary & Preventive care
Communication challenges in general, but especially health care settings
Aggression, self-injury, elopement and other behavioral issues
Emergency room visits
Acute care hospitalization
Treatment for co-occurring physical and mental health conditions
Premature Mortality
Medical Practitioner Training
Caregiver Mental Health
Are you ready for the shift?
We are.
Unlocking Autism has been working on a paradigm shift in various states for the last five years to address physical and mental health comorbidities – not only in our ASD population, but in our families living with autism.  Many of these underlying health conditions contribute to adverse behaviors or impaired speech.  When even basic health issues are addressed, families have found over the last two decades that improvement is possible.
The root of many of these traditional health concerns which have been overlooked in our ASD families for far too long is chronic inflammation. As a result, our kids and our families are on fire. Literally.
That's about to change.